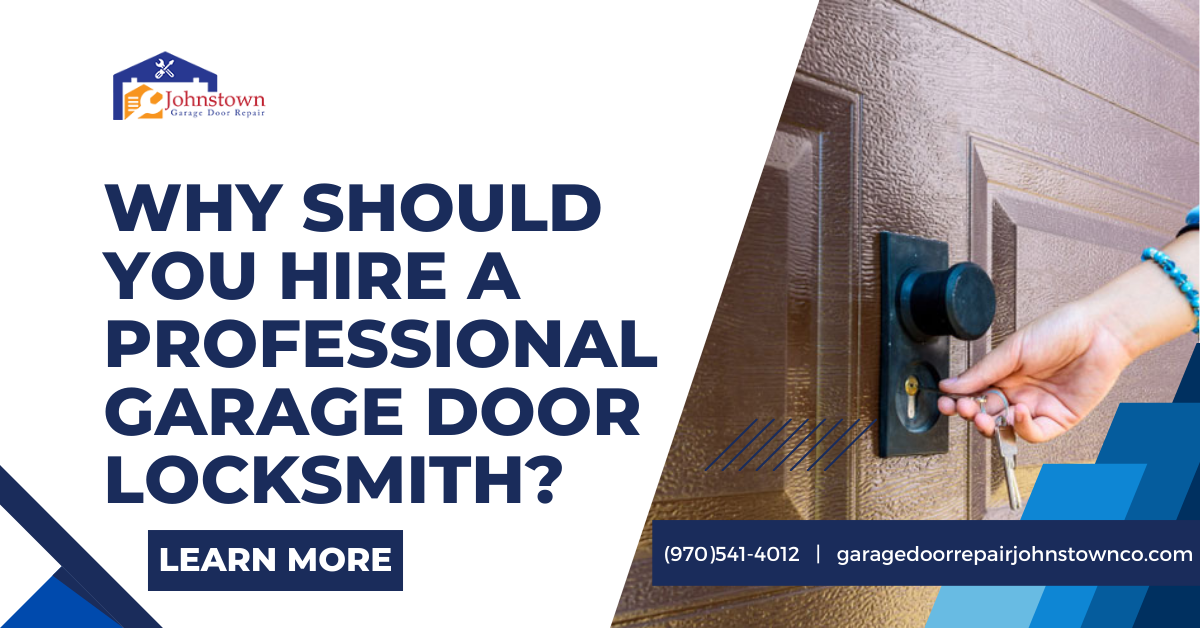 July 18, 2023
Why Should You Hire a Professional Garage Door Locksmith?
No one can deny the importance of a garage door. It is a vital entry point to your home, and it also ensures the security of your valuable possessions. That is why it is important to keep it in the best condition possible.
When it comes to maintaining the security of your garage door, you have a lot to consider. But one essential aspect that you should never overlook is the lock system of your garage door.
If there are any issues with the lock system of your garage door, you should immediately contact a garage door locksmith.
Whether the lock system requires some repair or replacement, a garage door locksmith can do it for you.
While you may think that you can do it yourself, it may not be the best idea. Garage door lock repair or replacement requires some technical skills. And if you're not sure whether you should hire a professional or not, this blog post is for you.
So, here are a few reasons why it is beneficial for you to hire a garage door locksmith.
Reason 1. The experience and expertise of a professional
One of the most important things that a professional has, and others do not, is experience and expertise. They have the right tools and knowledge to complete the task efficiently.
As we mentioned before, garage door key replacement or garage door lock repair requires technical skills. Professional garage door locksmiths undergo comprehensive training to acquire these skills and expertise.
They understand the intricacies involved in the lock system and can provide the most effective solutions.
Reason 2. A professional carries proper tools and equipment
To repair or replace a garage door lock, you need specialized tools and equipment. A professional garage door locksmith is equipped with these tools that help them to complete the lock-related task efficiently.
Not using the proper tools to fix or replace a garage door lock can also cause more damage. This can further compromise the security of your garage.
Now, we are sure no one would want that. So, it is better to avoid attempting a DIY approach and hire a professional locksmith.
Reason 3. You can get a prompt resolution
If there's an emergency situation, such as a broken or malfunctioning lock, you cannot afford to wait for too long. And professional garage door locksmiths understand this very well. They can provide you with the required assistance on an emergency basis.
These professionals are available 24/7 and can arrive at your place in a matter of minutes. This ensures that your garage door security is restored in the shortest possible time.
You can save your valuable time with the help of their expertise and efficiency.
Reason 4. Peace of mind and enhanced security
Well, no one wants to be in a stressful situation. And if your garage door lock is not functioning properly, it can definitely put you under some amount of stress. But one of the best ways to get rid of this stress is to hire a professional garage door locksmith.
By hiring a professional, you are enhancing the overall security of your home. Not only this, but you are also getting peace of mind knowing that your garage door is in good hands.
Wrapping it up
The security of your belongings is something that you should never take lightly. So, if your garage door lock is not functioning properly, you must get it fixed as soon as possible. And by hiring a professional garage door locksmith, you can get the job done in no time. The reasons mentioned above explain how it can be beneficial for you to hire a professional locksmith for your garage door lock.