Fix up Your Broken Garage Door Spring With Professionals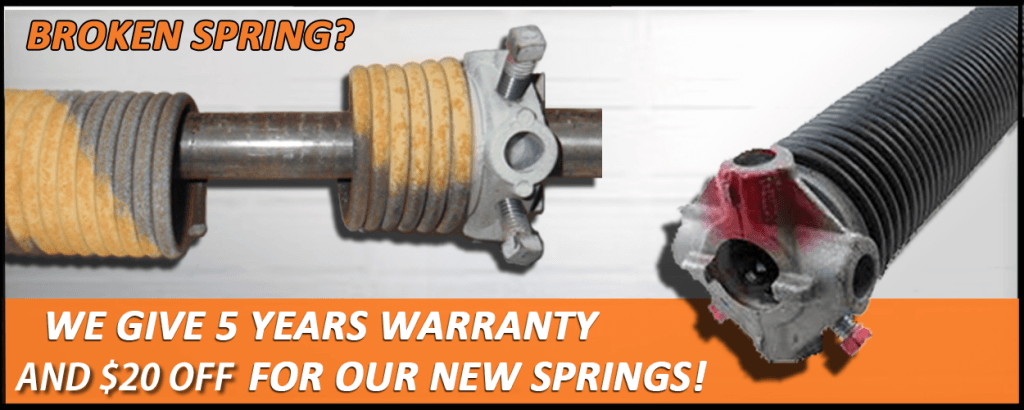 At Johnstown Garage Door Repair, we take pride in being the prime Garage door service provider. Our team can handle all the damaged parts of garage doors, be it an opener, pulleys, or springs. If your garage door spring is broken, contact us for professional assistance. We can help with both broken garage door spring replacement and fixing.
In our decade-long experience, we've found it to be the major issue people face with their garage doors. This may happen because a standard torsion spring has 10,000 cycles with three to five years of lifespan. However, you should help fix the issue and reach out to experts.
Why Is Broken Garage Door Spring Replacement Important?
In our decade-long experience, we have reported garage door issues mainly related to broken garage door springs. Since the device is easily prone to rust and wear and tear damage, it becomes important for space owners to replace the damaged part with the latest arrivals.
There is a high possibility that your garage door may fall with the broken spring. The consequences of this may be severe. Poor quality spring installation has proven to destroy residential and commercial places.
As a result, our technician uses the right tools and expertise to install garage door springs.
Why Choose Us?
The ultimate goal of Johnstown Garage Door Repair is to provide our valued customers with the best and the highest quality of repair parts. We are using the best and most trusted spring brands available. This ensures our customers a ten-year warranty for our garage door spring services.
Our Decade-Long Experience
The team of Johnstown Garage Door Repair possesses high expertise in handling complex parts of garage doors. We can fix your garage door spring issue with the right tools and equipment. Our experience chart can deliver the service in one go.
Cost-Effective Services
Our garage door spring replacement services are cost-effective. We don't believe in overcharging or undercharging. The team will inform you of the exact charges for their services. We lend our professional hands with honesty.
Peace of Mind
We understand how difficult it is to sleep with unsure home security. Your garage may constitute essential property. That makes us offer reliable garage door services so you can live with the utmost security and peace of mind.
Get Your Door's Springs Into Action by Calling Us Today!
If your broken garage door spring raises complications in your garage door operation, contact Johnstown Garage Door Repair. Our team is ready to serve you with reliable and cost-efficient broken garage door spring repair. We can also help replace the issue with high-quality brands.
FAQs
Q) What is the life expectancy of garage door springs?
Ans) The life expectancy of garage door torsion springs may range from seven to ten years, depending upon their usage. Today, most people use garage doors as their front doors, which means more usage of doors. This may lead to a shorter life span of springs.
Q) Can I replace or repair the broken garage door spring independently?
Ans) Since the garage door springs bear enough force to support the overall weight of the doors, it is important to handle the part with care. It might be challenging to handle the high-tensioned spring while fixing the issue. Also, you may need the right tools and expertise for broken garage door spring repair.
Q) Why did my torsion spring(s) break?
Ans) garage door springs' life expectancy factor may contribute to their failure. By that, you might face the failure of the garage door spring with its more usage. Using your garage door more frequently will lead to spring failure. In that case, you may call us to upgrade your springs and extend their life.
Q) How do I know if my springs are broken or bad?
Ans) If your torsion springs have 1-2 inch gaps, it's time to call professionals for garage door spring replacement. Also, garage doors with broken springs need to be balanced and seem off-track. Further, it may be difficult to operate your garage door if it has the same issue.
Q) How Do I Know What Size Garage Door Springs I Need?
Ans) different varieties of garage doors have different springs. Determining which sized garage door spring would suit your door may be difficult. In that situation, you can take help from experts like us.
Q) Where is your company located?
Ans) Our office is located at 450 Castle Pines Ave Johnstown, CO 80534.